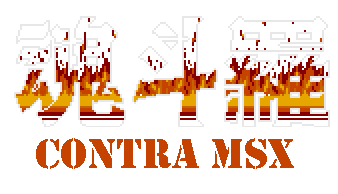 Box Art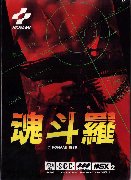 Japanese
Sections
| | |
| --- | --- |
| FAQ | Arsenal |
| Walkthrough | Multimedia |
| Manual | Cheat Codes |
| Foreign | Trivia |
| Intro | Ending |
Review
This is the MSX version of our favorite game, Contra! For the uninformed, the MSX was a home computer popular in Japan and parts of Europe. It never saw the light of day in the United States. However, the MSX version of this game was only released in Japan. The European arcade game was named Gryzor, the MSX version is often given that moniker, even if it's not correct.

The levels and weapons are similar to the original Contra, but there are plenty of differences. First off, the game doesn't scroll...it moves in single screens, like Vampire Killer (the MSX Castlevania.) The second biggest addition is a life meter...yes, you can now take a few hits before going down for the count. Running into an enemy actually does less damage than getting hit by a bullet. The game is only one-player as well.

The level structure is different from the original, but will seem familiar. There are a whole bunch of additional levels as well...there are four of those 3D view levels (as opposed to two), as well as two vertical scrolling cavern levels, two volcano levels, an enemy base (also vertical) and another alien lair. However, the hangar zone from the original is not present.

The bosses are pretty unimaginitive. Most simply comprise of a locked door surrounded by gun turrets. However, there are four "homicide censor" bosses, which are just like those bosses at the end of level 2 and 4 in Contra. The weapon system is vaguely similar, various power-ups can be obtained by shooting flying cannisters or mounted icons. However, depending on the level, you can choose which weapon you want. The only difference is that the wonderful spread gun is gone, replaced by a rear-firing gun.
| | |
| --- | --- |
| | |
Overall, the game isn't bad...the game's worth a play for true Contra fans just to see additional levels (even though they aren't too impressive) but on a whole it doesn't control very well. The 3D behind-the-back scenes are even worse for that reason. And the life meter is a nice additions, but you still only have a few lives and no continues (all of the screenshots to the left were taken with a hacked ROM offering unlimited lives, which is why the life meter is messed up on some occasions.) Not horrible, but little more than a mere curiousity.
Art
Additional Screenshots