Box Art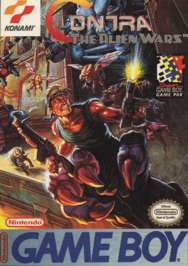 American
Sections
| | |
| --- | --- |
| FAQ | Arsenal |
| Walkthrough | Multimedia |
| Manual | Cheat Codes |
| Foreign | Trivia |
| Intro | Ending |
Review
Somewhere along the lines, companies got sick of making "new" games for the Gameboy. Years before publishers started shoveling old NES games for the Gameboy Color and selling them for $30, there was this. "Why not simply port games instead of using our God-given gift of imagination and game design?" said some suit at Konami of Japan. "Excellent idea!" acclaimed his superior. And the fruit of this lazy decision is Contra III: The Alien Wars for the Gameboy.

Despite my sarcasm, it comes that a port of the superb SNES game actually comes off pretty well on the Gameboy. The graphics has improved a little bit over Operation C, but this is still a Gameboy - nothing mindblowing. Most of the music is the same too, except for a changed boss theme.

Most elements survive the scaling down pretty well. The level structure is sometimes altered slightly (and the highway level was removed entirely), the overhead levels can no longer be rotated (instead giving you a strafe button) and a password feature has been added. But kudos should be given to Factor 5 (designer of the cool Amiga games Turrican, Rogue Squadron, and many other games you've probably never heard of) for making a successful version of one of the SNES' brightest moments.
Art
Additional Screenshots